One of top reasons people don't travel as much as they would like is due to money. However, travel doesn't have to be as expensive as you think. Many Thailand travel tips exist to help you save money in this beautiful country. However, people often spend way to much on plane tickets, accommodation, and various crap to be honest. If you really want to travel on a budget, it's completely doable. However, if all you want to do is make it rain at the club abroad like you're Lil Wayne, well then you're right, travel's going to be expensive.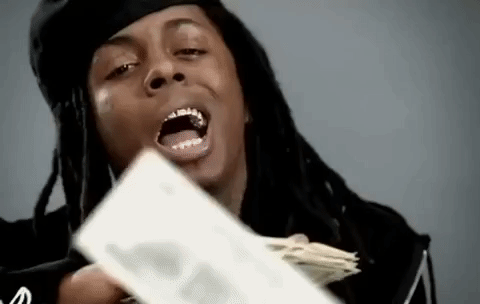 I am currently in Chiang Mai, Thailand and it's quite affordable. Traveling on $50/day or $1500/ a month is quite doable. Unless of course you are doing lots of events, courses, or as mentioned above, embracing you're Lil Wayne. Besides obvious large purchases, small micro purchases can also add up quick. Therefore I have put together 8 travel tips that will help you save money when traveling in Thailand!
1. Exchange Money USD
Like many countries in the world, Thailand is terrible for withdrawing money. At the moment the standard price to withdrawal from a bank or atm is 220 baht (roughly 10 dollars CAD!). This fee is unavoidable (unless you have some amazing set up with your bank, to reimburse foreign withdrawal fees). Similar to Argentina, the only way to really avoid this is by exchanging physical bank notes. If you are able to bring USD and exchange, you'll be much better off. Also it is important to note high denomination bills are worth more. Therefore bring primarily 50's and 100's for exchanging at the best rates possible. This is probably the best of the Thailand travel tips I have to help your budget. Check out the picture below for an example from an exchange in Thailand on January, 2019.
2. Don't get fined by the police
If you plan to ride a scooter, get an International Driving Permit (IDP). If you ride enough in any popular city, you will get stopped, and they will look to fine you. Getting an IDP is cheap and easy. In Canada it's around 10 dollars and has same day processing. I didn't think of this and left on my trip to SE Asia without one. Big mistake! Get an IDP and always wear a helmet.
3. Fill up your water bottle for at refill stations
Thailand is hot af. You're going to be crushing a lot of water.  A 1.5 litre water bottle costs about 50 cents at a store (15 baht). I honestly drink around four of these a day. So 2 dollars a day. However there's a better option than buying from a shop.

All over Thailand are small, water refill machines. Generally the price is 3 to 4 cents (1 baht) for 2 litres. I would recommend refilling your bottles here. You'll save money and the planet. Plus these machines are usually closer than the nearest shop. Honestly they are everywhere.
4. Bring your own sunscreen       
The long term benefits of sunscreen are proven… where as the rest of the travel tips in this blog are based on my own meandering. When possible, bring your own sunscreen to Thailand. If you're coming from Europe or the Americas it will be cheaper, and you're going to need it. If you're traveling with a carry on only you'll have issues with liquids. Try to bring two 100 ml bottles regardless to get you started.
5. Use Mobike to get around.        
I have talked a lot in the past about how great it is to travel by bike. Luckily, bike travel in Thailand has been made easy thanks to Mobike. Mobike is Thailand's city bike service. Unlike other city bikes that have set stations, mobike doesn't. Bikes are literally just all over the city. Thanks to a rear wheel,locking system, you can pick up and drop off the bike… literally anywhere. Plus the membership works out to only about 2 dollars a month, no contract. You can cancel anytime. Plus you can ride the bike for up to 2 hours at a time before paying more. Unless you are traveling across the country on these bikes, you will never have to pay more than 2 dollars a month. Just make sure you lock the bike after each use! Out of all the Thailand travel tips listed here, this is one you don't want to pass on!
6. Take a Songtaew for inner city travel 
Songtaew is a very cheap form of transportation in Thailand. A Songtaew is basically a unlicensed taxis. They are big red trucks going all over. To use them just stand on the street in the direction you want to go. When you see one going that way flag it down, show the driver where you're going, and jump in. Rides cost on average around 1 dollar (30 baht)
7. Grab is the Uber of SE Asia
Have multiple people? Want the convenience of getting home quick after a night out? Have a bunch of luggage with you? Grab will be your go to. Grab is essentially just Uber in SE Asia… Except much cheaper than the prices you are used to. Download it and you're good to go.
8. Eat on the Street
Thailand has an abundance of cheap, delicious food. I haven't cooked once in a month to be honest. Great dishes from local markets will run you about 1 – 2.5 dollars. Honestly the options are endless. However, if you're eating at westernized places catering to foreigners, you will easily pay 4-5 times the normal meal price. Therefore if you're really trying to travel on a budget, eat at local markets.
Travel doesn't have to break the bank
Travel doesn't have to be expensive, but it can be. Cutting out non- essentials, and tracking your budget can help a lot. If you're conscience of what you spend, you'll most likely control it a little better. Implement the tips above and you'll actually save a pretty penny in the long run traveling.

Safe travels !

-Scott